EURUSD Outlook
EURUSD Yesterday's chart analysis
The market week behind us has done a huge move forward. The price has done two things I have mentioned in the previous week forecast.
The price:
Made a pullback to $1.18150 – $1.18200 area
Bounced back above $1.19000
EURUSD managed to break above the 4 months range area ($1.17000 – $1.19000) that started at the end of July.
On Monday the price made an indecision candle when the pullback happened. Since then the price has made only bullish candles, but those candles were nice bullish candles.
Only on the $1.19000 level the price created an indecision candle which was broken to the upside on Friday.
The daily candle has closed above the $1.19300 level which was a crucial level because that level had stopped many candles in the past from moving further up.
Weekly candle has closed way above other weekly candles which opens the EURUSD pair to reach new highs.
Get Access to the Same "New York Close" Forex Charts
I am Using in My Analysis
Receive a 10% trade credit bonus when funding with $1000 or more!
New highs for EURUSD are in this order.
First high is around $1.20800 where the price will probably stop and make a pullback. This level acted in the past as a strong resistance. On the chart it is visible that the uptrend channel resistance line is making a confluence of resistance at that area together with the horizontal resistance line.
The pullback is expected to reach support around $1.19000 which is now confluence of support.
I will wait for bullish opportunities on the pullbacks. The first opportunity is when the price reaches the $1.2000 level and makes a pullback. The pullback could reach the $1.19500 level where I will look for bullish price action signals on H4 time frame.
Long term overview is I am seeing the price reaching $1.25000.
I have made Pip range analysis on a monthly basis which is visible on the chart. The chart shows that the EURUSD is having around 500 pip range in December. If we take this information into calculation the price could reach this level in one month.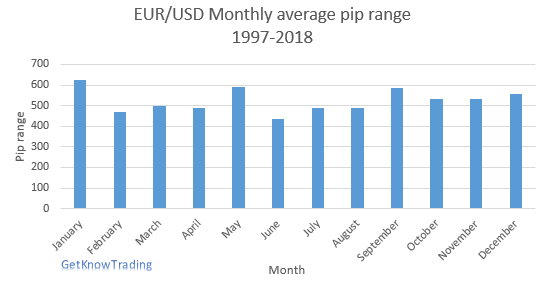 Interesting Fact
Here is one interesting thing from the daily chart.
Market overview between December 2017 and January 2018. The market has formed a similar overview and it took one month to reach the 500 pips target and the same price level, 1.25000.
Compared to today's situation, today's market shifted one month earlier. Could we expect the same result, 500 pips in one month? I will wait and see what happens if the market makes a pullback to $1.19000.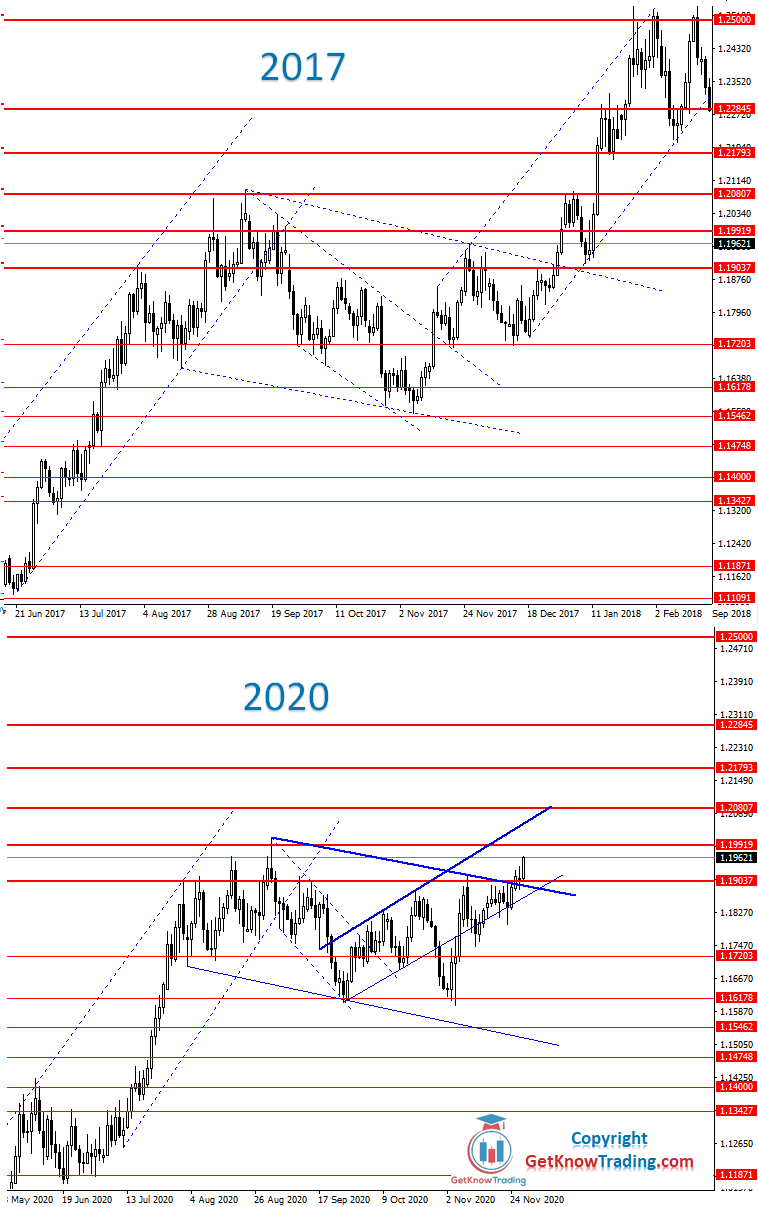 Trading Analysis Bonus
I am sharing trading analysis each week.
It is free and if you want to receive e-mail notification, sign up.