EURUSD chart tells us that we had a bullish run in a few four hour trading sessions and that could be it.
Yesterday's Summary
Bulls have managed to drive the price up to the strong resistance area. That area was a strong resistance last time on 01.05.2020. when the price rejected strongly.
After the rejection price plummeted all the way down to the strong confluence support level.
The rejecting signal was a strong H4 Pinbar and now we have similar signal. Even though the Pinbar does not have same shape which tells me that it is not so strong as the previous one, that price action signal could suggest moving more down.
After the Pinbar, we had relatively strong bearish candle and after that candle we had very nice bearish Pinbar. It was the third signal that the resistance level at 1.09371 is strong resistance.
We have sellers at that position and also buyers have gone out after strong run from the bottom of the range area. That leaves is with open situation where bears could be stronger.
Get Access to the Same "New York Close" Forex Charts
I am Using in My Analysis
Today's EURUSD Chart Forecast
If we take into consideration two bearish Pinbar's on four hour trading session and if we move to daily chart we can see bearish Pinbar.
On two strong trading time frames we have bears showing strength. That suggest we could see price moving back down.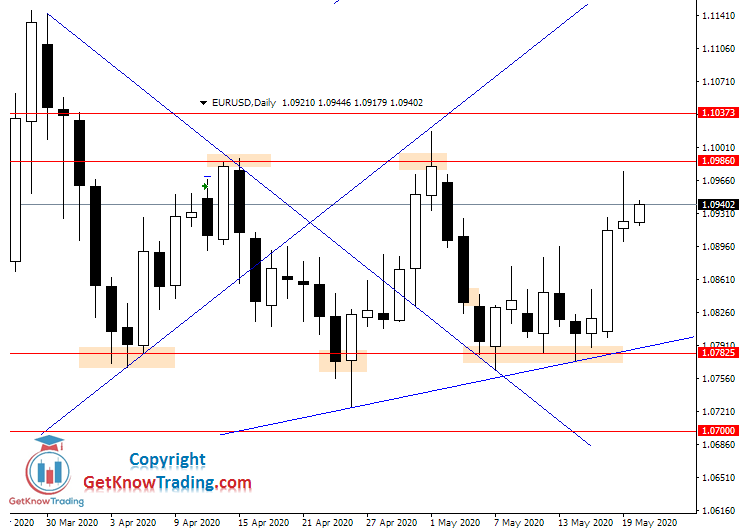 EURUSD have different pip range on each trading session in a day and on each day in a week.
EURUSD Chart – Bullish Scenario
If the bulls manage to drive the price more up we could see one more rejection from the strong resistance level at 1.09860. Rejection could move the price back to the support level which is upper side of the range area. That support is between 1.09028 and 1.08846.
From there we would need to wait to see what the price will tell us. Will it manage to break into the range area or it will make bullish price action signal and drive the price up.
EURUSD Chart – Bearish Scenario
While the bears have shown strength on two time frames we could see price moving down to the range area. If the price close inside range area that will suggest that the price is ready to attack again the strong support level with horizontal support and daily trend line.
Until the price make a move and close inside range area we should wait because bulls have shown that they are not done yet with allowing price moving down below strong confluence support level.
The market is not easily predictable and we need to prepare our self for bullish or bearish scenario. Risk management is crucial in Forex trading so play safe and set stop loss.
Trading Analysis
It is free and if you want to receive e-mail notification, sign up.