How To Buy VeChain
In order to buy VeChain you need to have a place where the exchange of cryptocurrencies and altcoins is done. One of the most known exchanges is Binance.
Why should you buy VeChain?
Read this: VeChain Up 85% In Seven Days
Binance Exchange
The exchange where VeChain is listed
Binance Home Page
When you get to the Binance home page you will have in the upper right corner button "Register".
You need to register in order to participate on the exchange market. With registration you will have a choice to buy any cryptocurrency or altcoin that is listed on the Binance exchange.
Binance exchange have the most known cryptocurrencies so it will not be a problem to find desired VeChain.
When you start the registration process you will have a new window in front of you. This window requires you to enter your e-mail address you will use.
Same email address will be used as a username for accessing your Binance trading account. It will be used to get notifications after registration and to get emails when accessing from another PC or mobile phone.
When accessing from another location PC or mobile phone you will need to verify that device through your email address.
Second thing you need to enter here is the password you will use for login.
Pay attention using a strong password that has a combination of letters, numbers and special characters.
It is advisable to have a strong password which will be hard to guess so you protect your account from unauthorized access.
When you enter your registration details you will need to enter a 6 digit number. That number is the verification code you will receive to your email address.
You need to open your email account and see what is the verification code you have received.
In this case I have used Google provider and gmail address. The image below shows how the message from Binance looks like.
You need to open that email and read the verification code.
In the email you see verification code. The 6 digit number in my case is 123546. That is the number I have put on the image for security reasons.
You will have your own code so copy it or remember it and go back to the Binance registration page.
Now enter the verification code and Binance will automatically go to the next step.
The next step in the registration process is shown below on the image.
Deposit Funds
Welcome window with deposit options.
As a first step Binance offers you to deposit money in order to participate in exchange. Without money you cannot buy any cryptocurrency as well as VeChain.
I have selected the option to deposit money over credit card.
The next step is to enter the amount I want to deposit. I have put 1000 eur where I will buy Bitcoin.
There is no option to have fiat money, like U.S. $ or Euro, but you have to buy cryptocurrency like Bitcoin which you will use to trade for VeChain.

When you are done with entering the desired amount you need to click on the "Buy BTC" button.
There are other options you can use to select as a payment method.
Feel free to test any option you have offered and which is more suitable for you.
Any one you select just follow the steps and you will come to the end where you will have money to buy VeChain.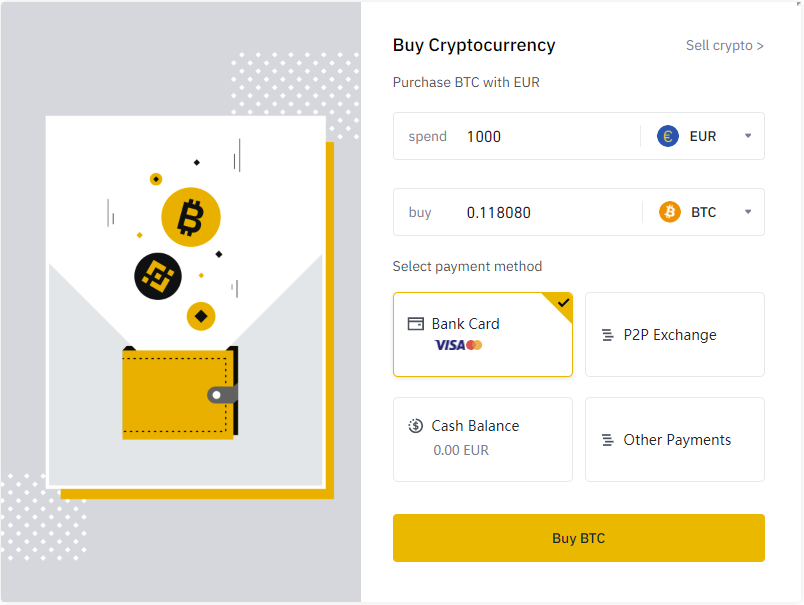 Security Verification
As a new user you will need to pass security verification.
There are two options you can use. First one is over Google verification or over phone verification.
I have selected phone verification because it is easier to use a telephone in this case.
Phone verification requires you to enter your phone number on which you will receive verification code.
Fill the necessary data and when you receive verification code over telephone enter it here and follow further steps.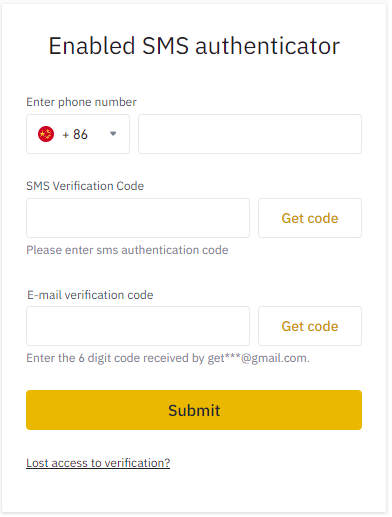 Binance Wallet
When you are done with the deposit process, you can access our wallet where your funds are located.
On the Binance home page on the upper right side you will have a Wallet with drop down menu.
Select Spot Wallet where your funds will be visible to you.
New window will open where you will have a list of all possible cryptocurrencies to buy or sell.
You need to search for VeChain so enter VeChain in the search box.
When you do that, VeChain will appear on the list. You need to click on the right side where the "Trade" button is.
Trade button means you want to do something with VeChain.
You can sell VeChain if you have any or you can buy some.

Buy VeChain for Bitcoin
On the drop down menu you have the option to trade VeChain for Bitcoin or few other cryptocurrencies.
I have selected Bitcoin because I have bought Bitcoin when I have deposited money in the Binance wallet.
When you select VET/BTC you will be redirected to a new window.
New window is the market window where you can see the current chart of VeChain against Bitcoin.
You can also see current orders that are open for buy and sell and what are current market trades.
On the bottom you can see a window with the option to buy or sell VeChain.
On the left side you can enter how much VeChain you would like to buy.
Buy power depends on the amount of Bitcoin you have. If you do not have enough Bitcoin you will see that you cannot buy VeChain.
Enter the amount of VeChain you would like to buy and click on the "Buy VET".
When you do that you will need to wait until Binance exchange makes the transaction.
All transactions you will see in the Wallet window you go there and wait for a few seconds or minute until the transaction is done.
When it is done you will see VeChain in your wallet with the amount you have bought.
Conclusion
Binance is very easy to use and very fast exchange.
You can buy many cryptocurrencies that you would like to have.
You can buy and leave your cryptocurrency until it rises or you can trade it on a daily basis.
There is an option to trade VeChain as an investment where you hold VeChain for months or years until the price rises.
What is your preferred option you can do it but have in mind not to invest what you cannot afford to lose.
Cryptocurrency market as any other market is risky so you need to prepare for the worst scenario.
Binance Exchange
The exchange where VeChain is listed