EURUSD Outlook
EURUSD Yesterdays's chart analysis
EURUSD has broken out from the indecision area that I have mentioned in yesterday's analysis. The break out took the price down to the first support area at $1.12806.
Strong bearish candle has formed after the few indecision candles. That strong bearish candle stopped at the support channel line.
This was a retest of the channel trend line after it was broken. If we see a nice bullish price action signal here we could see the price heading up.
After touching support level at $1.12806 the price pulled back to first resistance level at $1.13049. From that level the price reversed back down again to support level at $1.12806. And now the price is waiting there.
The H1 time frame shows few bullish Pinbar which is a sign of bullish strength. Few candles on H4 time frame could not close below the large bearish candle which means there is no strength to push the price down.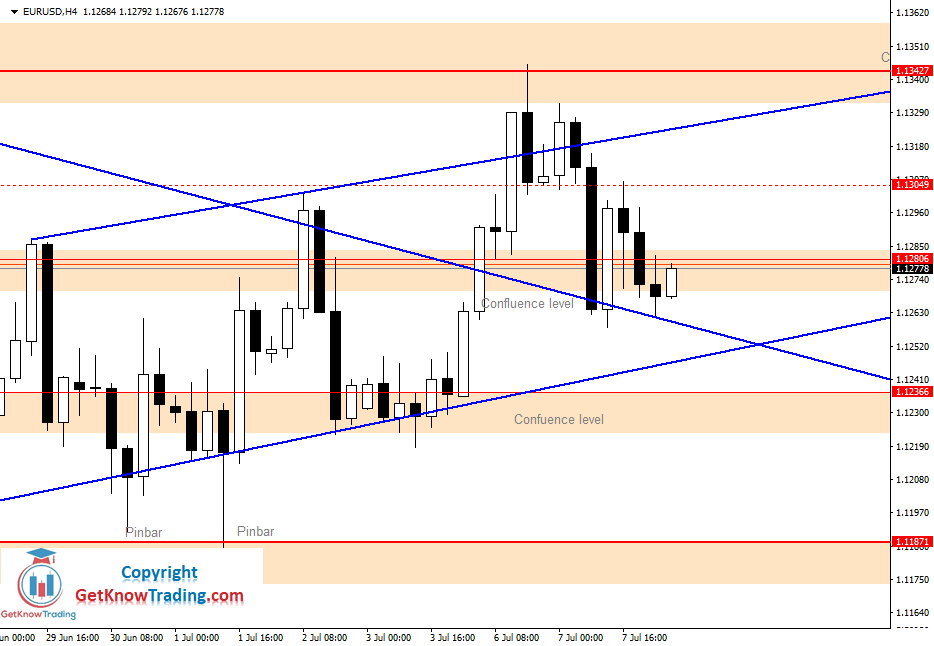 Get Access to the Same "New York Close" Forex Charts
I am Using in My Analysis
EURUSD Chart Forecast
We have a retest of the channel trend line which now acts as a support. The price did not close below which means that level is holding for now.
At that level on H1 time frame the current candle formation shows us few bullish Pinbar that confirms the channel support trend line. This is a nice retest of a breakout and a nice entry scenario.
If the price stays above $1.12806 level we will see the price moving higher. As we can see higher lows and higher highs are showing uptrend and the uptrend channel could be a guide where the price moves in the next few days.
Trading Analysis Bonus
I am sharing trading analysis each week.
It is free and if you want to receive e-mail notification, sign up.
The market is not easily predictable and we need to prepare our self for bullish or bearish scenario. Risk management is crucial in Forex trading so play safe and set stop loss.