EURUSD Outlook
EURUSD Yesterday's chart analysis
We had a nice push to the $1.2000 level when the price reversed down almost 100 pips. After the break above the $1.19000 level we had a bullish Pinbar that took the price to the first resistance level at $1.19435.
At that level we had inside bars after which the price break out and found its way to $1.20000.
At the $1.20000 the price has found strong resistance from where the sellers pushed the price down to $1.19000.
Strong bearish engulfing bar with more than 50 pips on EURUSD pair is a strong signal. The price needed only two trading sessions in a 4H time frame to bring the price 100 pips.
Strong selling happened on New York trading session where the price has lost all gains accumulated during European session.
Get Access to the Same "New York Close" Forex Charts
I am Using in My Analysis
Receive a 10% trade credit bonus when funding with $1000 or more!
EURUSD Chart Forecast
The price stopped at the first strong support area around $1.19000. This is the upper level of the range area in which the price has entered at the end of July and break out two day ago on August 31.
It will be the level at which the price will take some time before making a decision will it get back in the range area or it will try again to reach $1.20000.
The second support where the price could stop and make some bullish price action signal is at the $1.18398 level. This level acted as a support in the previous price movement.
That level is also a level of support confluence where the uptrend support cross with horizontal support.
One thing we should not rule out is the daily bearish Pinbar that has formed on the resistance level. It is a strong signal we could see the price move down.
First daily support is also at $1.18398 level which confirms 4H time frame analysis.
Online Course for Beginners
How to start trading
Where to start

Where to look first when I open trading platform

How to find a broker

How the whole process looks like on the live trading examples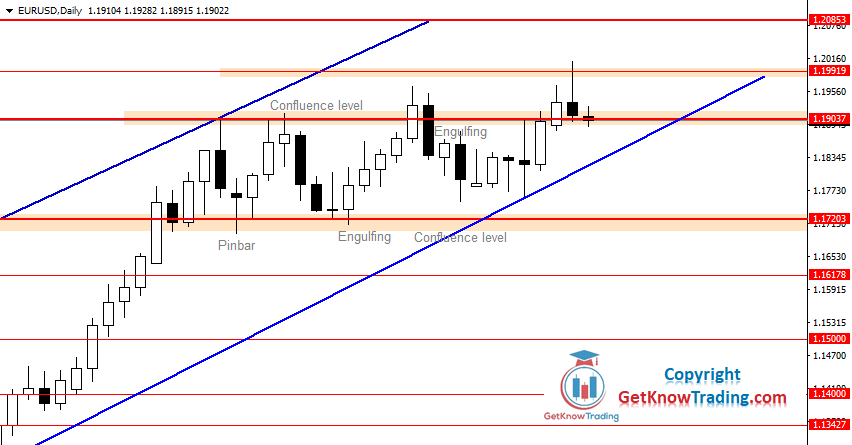 Trading Analysis Bonus
I am sharing trading analysis each week.
It is free and if you want to receive e-mail notification, sign up.
The market is not easily predictable and we need to prepare our self for bullish or bearish scenario. Risk management is crucial in Forex trading so play safe and set stop loss.