TalkMarkets – Forex Article Submission
"Disclosure: Some of the links in this post are "affiliate links." This means if you click on the link and purchase the item, I will receive an affiliate commission. This does not cost you anything extra on the usual cost of the product, and may sometimes cost less as I have some affiliate discounts in place I can offer you"
If you are searching where to make Forex article submission so you expand your visibility then you should start with TalkMarkets site. You can also make TalkMarkets content contribution if you like to make articles to wider audience.
It is the site where you can syndicate your content and reach larger audience which you are maybe limited with your website.
There is also opportunity to be contributor to TalkMarkets where you write article for them and publish on their site. It is similar like guest posting where you write article for someone and gain exposure.
But, being contributor is not only for reaching wider audience but you also earn TalkMarkets equity points which are used to earn asset share in TalkMarkets.  
If you are Forex trader you can find many articles about trading analysis and education content which you could use to improve your trading results.
TalkMarkets is the site which consists of many helpful articles in wide area which makes TalkMarkes one of the first choices when searching for article submission, article syndication, reading, learning and being a contributor while earning equity points.
TalkMarkets – Main Page
On the main page you have access to the all stories TalkMarkets have in their portfolio.
Main page is divided into sections where each section has its headline which describes which stories are withint that section.
On the upper side you have links to other parts of the TalkMarkets possibilites, like:
Education center
Dashboard for you if you are member where you can have your tickers visible to follow
Portfolio section where you can see sponsored content and managed portfolio
Social section which have the latest social activities feed
My network section that have the list of your connection and followers
Ticker Tocker section where you can see available trading-related products
Latest Post
TalkMarkets latest post section contains last published posts you have on TalkMarkets. At the start of each post you can see who is the author.
In this feed all articles are seen, those that are TalkMarkets articles or the articles of exernal contributors.
Editors Choice
TalkMarkets editor's choice are the articles that stands our among all other articles. They are picked by the editor in a way to show the best articles to the readers.
Latest Activity
In the TalkMarkets latest activity feed you can follow what has changes lately. Which activity have happened.
Here is some of the activities that are shown in this section:
When new member joins TalkMarkets
when someone posts on social network
New comments on the articles
Who is streaming now
New article is published
TalkMarkets Exclusives
When you become a contributor and write an article for TalkMarkets your article will be exclusive. That means the article you have wrote is TalkMarkets article.
For these kind of articles you get special credit with a badge and also listing in the Exclusive section. For each exclusive article you get more equity points when someone reds your content.
Below in the equity points section you will see how they are give based on the readings.
TalkMarkets Partner Content
As the name says it is section where TalkMarkets partners have their articles.
TalkMarkets – Education center
TalkMarkets education section is all about educating. There are articles from the pros in their field where you can learn a lot.
TalkMarkets covers wide spectar of knowledge base so you can find here many different articles about many topics.
For the Forex traders TalkMarkets offers daily analysis on currency pairs from various experienced analysts.
Ticker Tocker
As the image below says it is trading platform powered by the community of trading leaders. The goal of Ticker Tocker is help traders learn, test and make trades on financial markets.
TalkMarkets Contributor
If you are looking to write an Forex article or on any other topic you are interested that covers market spectar, then you can register and join TalkMarkets as a contributor.
As a contributor you can write for TalkMarkets or you can share your articles with TalkMarkets audience. There is difference when you are writing for TalkMarkets and when you syndicate your article through TalkMarkets.
If you write for TalkMarkets you get more credit for your work and you are awarded with E(Exclusive) badge on the front side of the TalkMarkets home page.
The Exclusivity gives you more equity points than just syndicating articles. How much points do you get and what you can do with these points, you can check by registering.
How to register with TalkMarkets is easy and you can find on several places the link for registration.
TalkMarkets Registration
When you click on the link for registration you need to fill few empty fields and you will enter into your account where you will have option to start contributing.
TalkMarkets have editor for entering new article so it is easy to get around if you are familiar how to write article.
At the start of the article you can select do you want to write exclusive content or you want submit article that is not exclusive to TalkMarkets.
When you want to submit non exclusive article it means that you want to syndicate your article. When you syndicate your article you can include your website link to that article if you want.
The rest of the article submission is easy and just follow the flow that you have on that page.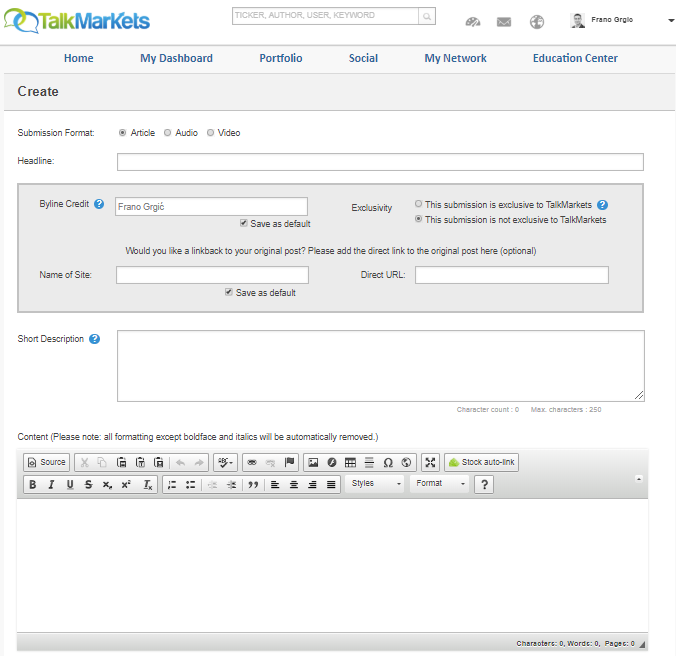 TalkMarkets Equity Points
As you write articles you earn TalkMarkets equity points. Equity points are the credit for your work you give to TalkMarkets.
The points are calculated by the guidelines which you can read after you register and become contributor.
TalkMarkets Earning Equity
After you become contributor you will be able to see what is current status of your equity points. Each article you write, each thumb up or like you receive will give you some equity points.
The number of views on your article gives you also equity points but the amount of points per view depends on the type of the content.
Exclusive content will give you 10x times more equity points per view than article you syndicate with TalkMarkets.

From your account you can reach Equity Points report page where you can see current status of published content and pageviews that article has received.
TalkMarkets Equity Report
When you click on the "Calculate" button you will see current status of the equity points by each points. There are several points that gives you equity points.
To make use of TalkMarkets it is smart to write articles for TalkMarkets and syndicate article with them to reach wider audience than you can have with your own blog/site.
With sharing content with TalkMarkets you can also earn equity which gives more credit to your contribution.