What is Harmonic Scanner in Forex
Harmonic scanner in Forex is a trading indicator that automatically plots Harmonic patterns on the trading platform which can be helpful for beginners in trading, but also to experienced traders.
Here is one of most used harmonic scanners which I recommend to use:
With additional tools like Fibonacci numbers, harmonic scanner can plot future price levels which you can use for planning ahead where to open and close the trade.
Harmonic patterns that are mostly covered with harmonic scanner are:
With harmonic patterns usually you get scanner for candlestick patterns, support and resistance level and chart patterns.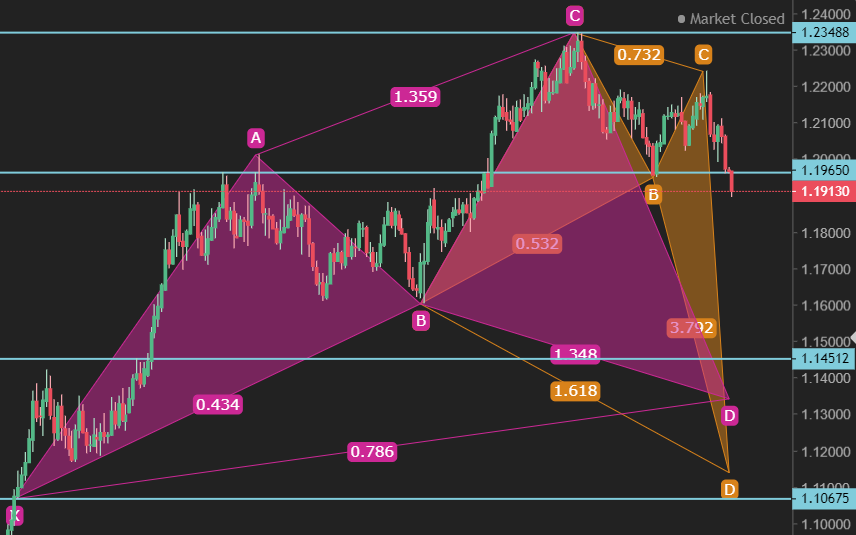 Harmonic scanner in Forex is a technical tool used as an indicator on the trading platform or a web-based application you can use in your browser. The scanner can recognize the pattern, will that be harmonic, candlestick or chart pattern does not matter,  and show you possible entry and exit levels.
Harmonic scanner uses an algorithm to find trading patterns by checking pair price on the trading platform. The patterns are defined by the technical details which are incorporated in the scanner. Its prediction is based on the assumption that all patterns will repeat themselves.
I will not get into details about the technical part on each harmonic pattern, but you can find more information on the links I have provided at the start of this post.
Scanner can recognize candlestick patterns, chart patterns and harmonic patterns. Some of the scanners can detect where the support and resistance levels are which then rounds all important levels a trader needs to watch when using harmonic patterns on the harmonic scanner.
If you are using price patterns in your trading, then a harmonic scanner can detect them.
You can also have information about how long will the current move last so you can define your exit strategy accordingly.
By using a harmonic scanner in Forex, you can get future price movements which are defined by using Fibonacci numbers. That way you can base your trading strategy on those price levels to make money.
If the pattern does not coincide with Fibonacci levels it could mean the pattern is not reliable to be traded so you need to invest more time searching for a more reliable trading signal.
To be successful you need to be patient and wait until all rules are fulfilled before entering the trade. Rushing to open a trade or not so clean harmonic pattern will not help you make money, but instead you will speed up the process of losing your money.
Do You Really Need a Harmonic Pattern Scanner
Not every trader need a pattern scanner.
For example, if you trade primarily using indicators then you do not need harmonic scanner.
Below are the most common situations where you might actually use harmonic scanner in Forex:
Chart patterns are too hard to spot because you are just getting started
You do not have enough time to go over thousands of charts to find these patterns
You are a price action trader but identifying support/resistance levels is just too time consuming
You can't afford a 100 USD/month pattern scanner which does not even cover all patterns and markets
How to Use Harmonic Scanner in Forex
Use harmonic scanner on the higher time frames. Time frames lower than 4 hours, H4, should be left out so you do not get trading signals that are false which usually come from smaller time frames.
The best time frames for day trading is H4, 4 hour time frame, and D1 daily time frame. Higher time frames are more solid and give more reliable profitable signals that will make you money. The goal is always to trade signals that have low risk and high reward.
When I say low risk and high rewards the best ratio is 1:3 which means if you set your stop loss on 10 pips you should have a profit target set to 30 pips.
Here is the example of what happens when you have a 1:3 ratio with 10:30 pips stop loss and take profit level.
If one trade is bad, you will lose 10 pips.
If second trade is bad trade, you will lose 10 pips.
That gives you 20 pips loss on two trades.
If your third trade is positive you will make 30 pips.
At the end when you sum your loss and profit you will have
(-10) + (-10) + 30 = 10 pips
You see that good risk: reward ratio gives you a chance to have few bad trades, but one good trade will cover all bad trades and even give you profit at the end.
If you can increase risk: reward ratio that would be even better.
Second thing to remember about the Harmonic Scanner is that it draws harmonic patterns, but they should not be used alone.
I mean if a harmonic scanner shows you some pattern you should include support and resistance levels in your trading decision to confirm the harmonic pattern you see on the trading platform.
That way you will increase the validity of the scanner pattern which at the end will give you a more profitable signal.
Potential Reversal Zone
Harmonic scanner provide to a trader potential reversal zone (PRZ). It is a zone where the price will likely make a move and reverse.
That is the area where you should look for entry levels.
Potential reversal zone can fail like many other indicators/levels. That is why you should count into your trading plan that PRZ does not work 100% all the time.
Use good risk to rewards ratio to calculate how much times PRZ should be correct and how much times can be false level to enter into trade.
Harmonic Scanner Platforms
There are few ways you can use Harmonic Scanner in your trading and those way are:
Web based platform
Desktop based platform
Metatrader 4/5 platform
cTrader platform
Now, each platform has its own advantages so you should select the one that suits you the best. Web based platforms are accessible from anywhere in the world where Internet connection is available. You can use a PC or smartphone and trade patterns.
Desktop platform is more user friendly because you can sit in front of your computer and use the scanner easily. But, a web based platform is also possible to use on your PC which then makes it almost the same.
On Metatrader 4/5 harmonic scanner is usually available as expert advisor also known as EA. You can easily implement EA by dragging him on the chart and activating it.
On cTrader trading platform harmonic scanner is available as an indicator which is also easy to implement.
I would go for a web-based platform because you get all the tools to use the scanner and it is updated regularly which makes using it without any problems.
Harmonic Scanner Notification
One of the features you get with most harmonic scanners is that you can be notified with some kind of message that there is a pattern you can use for trading.
That message can be sent through:
telegram
slack
desktop notification
browser notification
You can be sure you will not miss some of the patterns that appear on the chart.
Notification is probably the most important feature of any professional pattern scanner.
However, not all notification system were created equal, not even close. There are 3 things to look for when choosing your platform: coverage, delivery method, and content.
Coverage:
This criteria is very simple. How easy it is to subscribe to notifications for all forex pairs ?
Does the platform only allow you to subscribe to a single pattern at a time?
A good notification system should let you subscribe to all future patterns of any symbols that you want.
You shouldn't have to hand-pick the pattern on the chart yourself.
Delivery method:
How is your notification delivered to you ? Is it via email, web notification, telegram or facebook?
You should find a notification system that support your preferred method of delivery.
However, be careful with email notification as it can be very annoying. Imagine receving emails every few seconds or minutes when several harmonic patterns appears on the chart.
It would be pain in the ass having mailbox full of notifications.
Content:
Does notification message contain enough information so you can make a decision without even clicking on the link ?
This is important to have so you do not need to click everytime on the notification to open the chart and check is the pattern worthy of seeing or not.
The best is to have notification with all information and images attached in each notification. Server-side image rendering is difficult and only the best system will support this feature so it important to use the best harmonic pattern provider.
Advantage of Using Harmonic Scanner in Forex
Speed
Accuracy
Personalized watchlist
Notifications
There are several harmonic patterns you can watch, but to watch them all and find them all on many trading pairs is not so easy. To find a harmonic pattern requires a skill and practice which many traders do not have.
Manually looking for patterns is time consuming and usually traders cannot spend too much time looking for the patterns. If you take into consideration that many beginners want to start Forex trading with harmonic patterns, then you can understand why harmonic scanner come in handy.
Using Harmonic scanner as a beginner or experienced trader on the trading platform can be very helpful and time saving. Harmonic scanner will look every second on many trading pairs for harmonic patterns and draw them for you on the trading platform.
Usually, a harmonic scanner has tools to notify you over some kind of notification, so you do not need to sit in front of your computer and wait until the scanner finds a harmonic pattern to trade.
Some of the helpful features a harmonic scanner can have is personalized watchlist on a different time frame. You can use a harmonic scanner from a 5-minute time frame up to monthly time frame which can give you many trading opportunities. But have in mind that a higher time frame will usually give you a more accurate trading signal.
How successful harmonic scanners are each provider has its own results shown to traders. But to be sure it is the best to use it and test for yourself. That way you can see if the harmonic scanner is suitable for you and do you get desired results.
Majority of harmonic scanner can be tested for a few days as a trial period so you should use that advantage when possible. That way you can be sure you are investing in something that is worthy of investing.
Here is what you usually get in harmonic scanner:
Price level where the price could turn

This is usually entry point for you

Stop loss zone

It is a level where you should exit from your trade so you do not lose more money that you should. It is also a level where it is predicted that pattern signal is not valid

Take profit

There are few, usually three, levels where you can exit with profit

A dashboard

Here you have a table with all pairs that has some kind of harmonic pattern available to trade, so you do not waste time looking on each currency pair chart
You have time frame shown at which the pattern is created so you can easily decide is it worthy to trade it or not because higher time frames give more reliable signals
Just by clicking on that pattern you will get a chart with the currency pair that has pattern available
How do You Trade With Harmonic Scanner in Forex
You follow certain steps and rules defined by the harmonic trading patterns. Harmonic scanner helps you find harmonic patterns.
Here is a video that shows how to use harmonic scanner.
Is Harmonic Scanner for Beginners
Harmonic scanner can be used for beginners because the scanner can work automatically. There are web based scanners that give you the most stress free approach because you as a beginner in trading only need to open a browser.
Beginners do not need to set up the platform and settings because they are all done automatically by the harmonic scanner provider.
You as a beginner in Forex can start trading with harmonic patterns by using harmonic scanner, but one thing you should use all the time. That is a risk calculation in each trade you open by using harmonic scanner patterns.
You need to be patient and disciplined so use one more technical tool to confirm harmonic patterns that are shown on the scanner.
As a beginner you could ask yourself is Harmonic scanner a scam. There are harmonic scanners just to be sold. They do not provide you any helpful information, but that can be avoided.
Majority of harmonic scanner give a trial period for beginners or experienced traders so you can check for yourself if you get any positive trading results.
Do not blindly buy something without spending time reading reviews and testing it for yourself. As a beginner you should learn from others and try to avoid learning on your own mistakes.
Harmonic scanner is a useful tool for beginners, but it would be good to learn more about trading and other tools you can use to get the most out of harmonic scanner. That can be support and resistance levels, trend lines, uptrend and downtrend channels, price action patterns.
Type of Harmonic Scanners in Forex
You will find two types of harmonic scanners which you can use, and it depends on you, are you a beginner who wants to have scanner that does not repaint at the last D-Leg even when the pattern is invalidated or you a trader that does not mind having scanner that will change its form by repainting pattern.
Two types of harmonic scanners are:
Repainting Harmonic Scanner
Non-Repainting Harmonic Scanner
What is a Non-Repainting Harmonic Scanner or Indicator in Forex?
Non-repainting means you will have patterns drawn on the chart that remain even if you close a trading platform and open it the next day or if you change the time frame you are trading on.
Non-repainting harmonic scanner or indicator will not change its value after the price candle is closed.
What is a Repainting Harmonic Scanner or Indicator in Forex?
Repainting harmonic scanner or indicator changes its values by using future data and that is candles on the right side of the chart. All candles on the right are not finished candles which are still not close and change their shape and value.
That means, scanner or indicator will change its shape as the candle changes. Until the candle closes you will not get a clear shape of that pattern because the pattern is changing its form all the time how the candle changes.
If you use a repainting harmonic scanner at the end you end up with a scanner or indicator that has historical entry and exit signals extremely accurately which is not a correct indicator of a precision for future trading signals.
Read more: What is Repainting and Non-Repainting Indicator in Forex
Which Type of Harmonic Scanner in Forex to Use
Usually, the easiest way to trade using a harmonic scanner is using a non-repainting harmonic scanner. If you are a beginner in trading, you could focus more on using a non-repainting scanner because you will have a clean chart with correct information, and it will not put mess into your analysis.
One important note here to remember is to get a non-repainting harmonic scanner that does not lag. Usually, the harmonic indicator or scanner is repainting and if it is not repainting then he will have a lag in turning point.
Lagging means that it will show you a signal later instead on time which could lead you to wrong entry time. You could be late to enter trade on the right turning point based on the harmonic pattern signal.
It is in your interest to have a non lagging harmonic scanner or indicator to avoid late signals which could bring you wrong trading decisions.
Where Can I Buy Harmonics Forex Scanner
I will list all harmonic scanners in Forex I am aware of so you can check which one is suitable for you so you can buy harmonic scanner.
Harmonic patterns

Standard patterns

Platforms: Web
50% on the first month over this link

Harmonic patterns

Standard patterns

Platforms: Web, Desktop, MT4/5 EA, cTrader Indicator

API: Yes
ClickAlgo
cTrader Harmonic Scanner
14 day FREE trial

Harmonic patterns

Notification: Popup window, Email alert, Telegram message, SMS text message

API for using: Yes
AlgoTrading
X3 Chart Pattern Scanner
Non-repainting and non-lagging Harmonic pattern

Harmonic pattern

Eliot Wave pattern

X3 pattern

52 Japanese candlestick patterns

Platform: Metatrader 4 and Metatrader 5
8 Harmonic Patterns

Platform: Web
Harmonics.app
You will have 8 harmonic patterns and 9 chart patterns with support and resistance levels detection.
Real time notifications are delivered to you via Telegram, Slack, Webhook and Browser notifications.
Machine learning algorithms filter out the bad patterns for you.
Access to the scanner on any device, from desktops to smart phones.
There is no FREE plan
Harmonic patterns are covered:
Bat
Alternate bat
Butterfly
Crab
Cypher
Deep Crab
Gartley
Shark
Standard patterns
Triangle
Wedge
Double Top/Bottom
Triple Top/Bottom
Head and Shoulders
Flag
Channel
Pennant
Major support/resistance level
Dashboard or monitor that shows you a list of all patterns across all securities. You can use filters to help you shorten the list including pattern status, asset class, pattern, pattern type, timeframe and individual securities.
Platforms supported:
Harmonic Pattern Scanner
To get the access you need to login on their website and you will have access to the demo version in your dashboard.
You will have the option to buy a monthly subscription or you can check out the demo version which has limited options. But enough to make the test how the harmonic scanner works.
You will have 8 harmonic patterns and 9 chart patterns with support and resistance levels detection.
Pricing is listed on their website so you can take a look at what they are offering, but as a start plan you can select $19.99/month.
Here is what Harmonic Pattern can do for you:
Automatically identify all harmonic, chart and candlestick patterns
Support data feed from 10 forex brokers, 20+ crypto exchanges, and 60+ stock exchanges around the world
Support/Resistance levels detection
A fully customized notification system to alert you the moment a pattern completes
Support standardized global macroeconomic data, global company fundamentals and M&A deals at a fraction of the cost of other providers
Harmonic patterns:
Bat
Alternate bat
Butterfly
Crab
Cypher
Deep Crab
Gartley
Shark
Standard patterns
Triangle
Wedge
Double Top/Bottom
Triple Top/Bottom
Head and Shoulders
Flag
Channel
Pennant
Major support/resistance level
Platforms that are available for Scanner:
Web
Desktop
MT4/5 EA
cTrader Indicator
API for using
Install Harmonic Pattern Scanner on Metatrader 4
Here is video instruction how to install harmonic pattern scanner on the Metatrader 4 platform.
Install Harmonic Pattern Scanner on cTrader Platform
Here is video instruction how to install harmonic pattern scanner on cTrader platform.
AlgoTrading X3 Chart pattern scanner
Non-repainting and non-lagging Harmonic pattern
You have several types of patterns to watch. You have:
Harmonic pattern
Optimal AB=CD
Optimal Butterfly Pattern
Optimal Gartley Pattern
Optimal Bat Pattern
Optimal Alternate Bat Pattern
Optimal Shark Pattern
Optimal Crab Pattern
Optimal Deep Crab Pattern
Optimal Cypher Pattern
Optimal 5-0 Pattern
Optimal 3 Drives Pattern
Eliot Wave pattern
Elliott Wave .1234 Pattern
Elliott Wave .12345 Pattern
Elliott Wave .12345AB Pattern
Elliot Wave .12345ABC Pattern
X3 pattern
Star River Pattern
Trident Pattern
Horse Pattern
Eagle Pattern
Phoenix Pattern
52 Japanese candlestick pattern
Engulfing
Piercing Line
Morning Star
Doji Star
Hammer
Harami
And more
Platform: Metatrader 4 and Metatrader 5
ClickAlgo
Harmonic patterns are covered:
Bat
Butterfly
Crab
Cypher
Gartley
Shark
Notification:
Popup window
Email alert
Telegram message
SMS text message
API for using
Trial period
IM Harmonics Scanner
IM Harmonics Scanner covers:
Platform:
Trial period:
7 days money back guarantee
If you want to learn more you can get more information in the blog post where you can have in detail overview what is IM Harmonics Scanner.
Conclusion
Harmonic scanner in Forex is there to help you save time searching harmonic patterns on the chart. He automatically draws you patterns on the chart and send you notification when trade opportunity appears.
Use harmonic scanner with other trading analysis tools so you increase the accuray of a trading signals you get.
Always use risk management in trading and be patient and disciplined.