If you want you can look video how to download FREE Metatrader 4 platform on PC.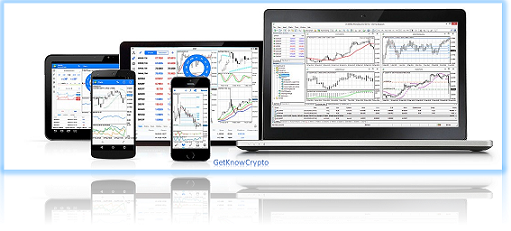 I know, at start, it can be very hard to find good information and help on how to start trading and mostly, as the first step, installing a trading platform.
You are looking for a website where you would have step-by-step instructions on how to download and install Metatrader 4 and you cannot find the details for this process? There are always some small steps shown but there are no detailed step-by-step instructions which will show you all what you need to know in order to install Metatrader 4.
In this post, I will give you step-by-step guidelines and instructions on how to download Metatrader 4 all the way up to how to open Metatrader 4 platform on Windows operating system and on a mobile phone.
If you are struggling to find Metatrader 4 application and you do not know how to start trading you should continue reading and follow the next steps.
This tutorial will help you to:
Find Metatrader 4 trading platform for download for PC and mobile phone
Download Metatrader 4 to your computer and your smartphone
Start installation process
Finish installation process
Open Metatrader 4 terminal
I will show you how to download Metatrader 4 from Metatrader official website and from Google Play. If you want to download the platform from a broker website that I use, please follow this link.
Step by Step Guide: Admiral Markets Demo Account
1. Were Can I Download Metatrader 4 for PC
In order to download Metatrader 4 I have used Google Chrome as the browser, so for everything to be easier for you, I advice that you use the same browser. With Google Chrome you can easily follow my steps because the search results should be in the same place as in my images.
1.1. How to Search Metatrader 4
Please open your browser and type "download metatrader 4".
On the picture below you can see what I have typed into the browser to get the desired result. Please do the same so you can get the best search results.
---
After you press search in the browser or you press "Enter" on your keyboard, Google Chrome will show you the search results.
You need to choose Metatrader 4 web page because Metatrader4.com is the official web site for downloading Metatrader 4 trading platform.
GetKnowTrading – Download Metatrader 4 trading platform.
1.2. Google Search Result
The picture below shows what I have received as a result in Google Chrome browser. As you can see, the search result shows me the direct link to Metatrader 4 download page. I have put a frame around the link so you can see what you will open when you select the search result.
Please select this choice so you can continue to the next step.
---
1.3. Select Correct Search Result for Metatrader 4
After you select the search result, you will be taken to Metatrader 4 download page where you can select the button for downloading the trading platform. Before you select any button on the web page please confirm that you have opened the correct web page.
You need to verify that you were not redirected somewhere else. In the picture below you can see which web page link you should have open. If the link does not match the one in the image, please type the link directly into the web browser.
---
1.4. Metatrader Official Page
After you select the correct web page link and the browser opens it, you should see the same thing as I have in the picture below. At times the web page appearance can change due to website owner's choice but the necessary information for Metatrader 4 download will be there.
Do not select the orange button that says "Download Metatrader 5 – next generation trading platform" because this time we will install Metatrader 4 on your computer.
Metatrader 5 is Metatrader's next generation trading platform which you will not right now.
---
2. Metatrader 4 Download Button for PC
On the same page, please scroll down a little bit and you will see the button with correct description. This button gives the information for downloading Metatrader 4 trading platform for your PC.
Please select this button and wait until the process takes you to the next step.
---
2.1. Save Installation Package
The next step asks you where you want to save the Metatrader 4 installation package.
You need to choose where you want it to be saved so you can find it easily. The folder or place on your computer must be a place where you easily can find it because the next step will require that you open this installation package.
Pay attention to not to save it to a location on the computer where you cannot find it later.
I have used "This PC -> Downloads" folder because it is very easy to find it on my computer. You do not need to change the name of the package. You can leave it as it is, "mt4setup".
When you find a good place on your computer, select the "Save" button.
---
3. Metatrader 4 Installation Process
After saving the installation package, you need to start the installation process. The process is started when you open the package by clicking on it.
Please find the package and activate it by a mouse click or select it and press Enter.
After the process is started, go to the next step.
---
When you start the installation process, a new window appears. On this window you should read the terms of use and click "Next".
---
After pressing "Next", the process will start automatically and you need to wait for a few seconds. The waiting time depends on your computer's processing power. For slow computers this process can take a little bit longer but still not too long.
During the installation process you do not need to do anything but just wait. You will see several images changing in the installation window but do not let them distract you.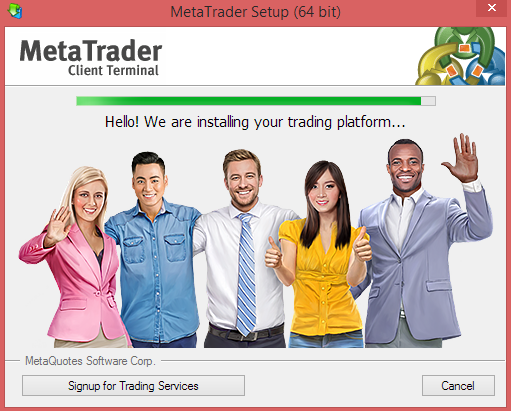 ---
When the whole installation process is done, you will see the"Finish" button on the bottom right side. You can press it or you can wait for a few seconds and the window will automatically close.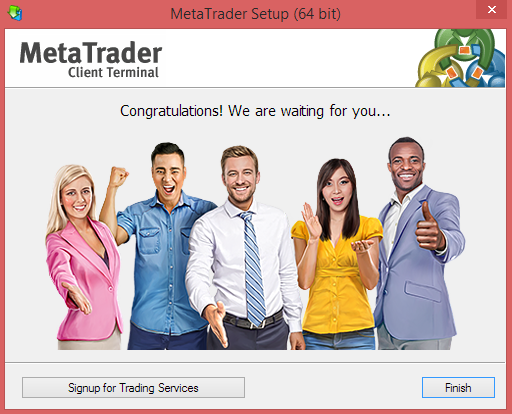 ---
3.1. Open Metatrader 4 Trading Platform
If you press the "Finish" button or wait to automatically close, Metatrader 4 trading terminal will automatically appear on your screen.
Metatrader 4 trading terminal opens with four windows which show charts of certain trading pairs. The picture below shows you what you will see when the installation process is finished and when the application is open.
---
3.2. MetaTrader Icon
If you take a look at your desktop, you will see that two icons appeared. The first one is named "MetaTrader" and the second one "MetaEditor 5".
The first icon represents Metatrader 4 trading terminal which you will open whenever you want to trade on the Forex Market
The second icon represents the editor using which you can create your own Expert Advisors(EA).
---
One thing you will see after Metatrader 4 installation process is finished is that a new web page opens in your browser. This page is automatically opened and it is pointing you to go to the MQL5 forum where you can register and read more information about Metatrader terminal and join the forum community.
It is up to you if you want to participate in the forum. There you can find useful information about Metatrader. After you gain more experience on Metatrader 4 platform you should check what is there. Maybe you find useful information for your trading strategy.
---
Download and Install Metatrader 4 for Smartphone
This guide shows the installation for an Android smartphone but it is almost the same for any other OS(Operating System). You can follow these steps to download and install Metatrader 4 mobile application on your smartphone.
Here is a short overview what I will show you here:
Find Metatrader 4 mobile application on Google Play
Download and install Metatrader 4 mobile application on your smartphone
Open a demo account on Metatrader 4 mobile application
Login with a demo account username and password
So, lets start.
1. Were Can I Download Metatrader 4 for Smartphone
1.1. Find Metatrader 4 Mobile Application on Google Play
As the first step, please use your smartphone and open the Google Play app.
When you open the Google Play app, please go to the search field and enter "Metatrader 4" and press "Search". Google Play search will show you as the top search result the Metatrader 4 application.
You should select that result and then download begins.
A new window with an image like below will appear and it asks you to "Install" the Metatrader 4 mobile application. Please verify that under the name "Metatrader 4" it is stated that it is from "MetaQuotes Software Corp.", a company which has developed this software application.
The image below does not have the green square button in English language, but do not let that confuse you. The button for "Install" is in the bottom right corner within a green square. If you are using another language on your smartphone, the green square will have another word within but the meaning will be the same, "Install".
When you select the "Install" button, please go to the next image below.
---
1.2. Open Metatrader 4 Mobile Application
When the download and installation of the Metatrader 4 mobile application is finished from the previous step, you will then have two buttons with two choices.
Those are:
Uninstall Metatrader 4 mobile application
Open Metatrader 4 mobile application
You need to select the second button "OPEN" which is on the bottom right side. In the image below it is written as "OTVORI" which means "OPEN". Again, do not let the language confuse you because the meaning of the two buttons is the same in any language you are using on your smartphone.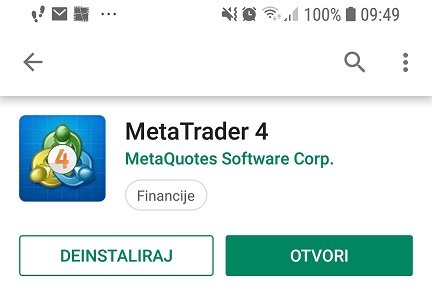 ---
After you confirm that you want to open Metatrader 4 mobile application, your smartphone will open the new app.
Metatrader 4 app will open its main menu where you can see several sub menus which you can explore by yourself. But, as the first step please, follow my instructions to finish the whole process and then you can check by yourself anything you want.
The image below shows that you have one message in your "Mailbox".
---
When you install Metatrader 4 app, you will automatically get an account with login data. If you do not want to use this account number, you can open a new demo account on Metatrader 4 mobile app.
---
This message contains:
account number
login password
investor password
1.3. Login to Metatrader 4 Account
You should use this login data if you want to start trading on the demo account. If you do not want to use this demo account and you want to open a new one which will have the data you want to have, like your name and a different balance on the account, you should open a new demo account.
---
If the login information you have entered is correct, you will see a list of trading pair quotes, like in the image below.
Here you can select which trading pair you would like to explore and to see the chart with trading prices.
---
Check the balance that is available on the account by selecting the "Trade" menu on the toolbar on the bottom of the image.
---
That is all what you need to do in order to have Metatrader 4 trading platform installed on your smartphone. It is an easy trading platform which you can simultaneously use on both trading terminals, PCs or smartphones, with the same account.
Good to Know About Metatrader 4
On some Windows operating systems the Metatrader 4 trading platform will not sometimes update correctly if installed in the "Program Files" folder. If you do not encounter this kind of problem then continue with the installation in the "Program Files" folder
If you want to start more trading accounts at the same time install another program in different directory
Sometimes there are some problems with downloading and installation of Metatrader 4 on computer. Those problems can be:

Security settings on a local computer or a network computer

If you are on a network, please have the administrator privileges in order to install and download Metatrader 4 trading platform
Main Advantages Metatrader 4 has:
It is completely FREE
The platform has all analytical power for trading
It allows you to develop your own indicators and automated trading solutions
Many brokers use Metatrader as their main trading platform, which is FREE to download
Due to its popularity, many traders have solved problems that arise when using the platform, so it is not a problem to find a solution on the Internet for any problem you might encounter
Some brokers offer the opportunity to trade commodities, stocks and indexes on Metatrader 4 platform
You can test your trading strategies for FREE
FREE backtesting features
Metatrader 4 mobile platform or a web based application
Linux, open source, operating system is supported
Now you have Metatrader 4 installed on your computer and smartphone. Now you can go to the next step and get familiar with the trading platform. It is good to explore the whole Metatrader 4 trading platform to see what it has to offer for you.
To start with, learn as much as you can about the trading platform and practice on a demo account. The demo account will give you the opportunity to get a feeling about opening an order, sell or buy. By trading you will learn more about the technical tools you have at your disposal and which you can use in your trading.
Conclusion
I have shown you how to download and install Metatrader 4 on a PC and a smartphone.
I hope you enjoyed this guide and you can share this if you think it will help somebody else who wants to learn trading on Forex market.
---